Voyager 1 encounters the unexpected at edge of the solar system
Voyager 1 has entered a place where the solar wind is no longer blowing. The finding suggests a 'doldrums' on the farthest edge of the solar system that scientists had not forecast.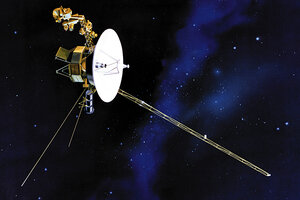 NASA/AP/File
On its journey to the stars, the Voyager 1 spacecraft has hit an unexpected, knife's-edge region at the boundary between the solar system and interstellar space.
In short, Voyager 1 is in a spot where the sun's winds have, in effect, stopped blowing.
An analysis of Voyager 1 data, released Wednesday and appearing Thursday in the journal Nature, indicates that the transition between the sun's extended atmosphere and the beginning of interstellar space is not abrupt, as theorists had expected. Instead, the solar wind gradually tapers off to zero, setting up up a narrow region of what might be described as the solar "doldrums."
Voyager 1 has been crusing through these doldrums since April 2010, putting it on the doorstep of the heliopause, the point at which the sun's atmosphere yields to interstellar space beyond. Indeed, if the new calculations are correct, humanity's first rudimentary starship – now 34 years into its journey – could break free of the solar system by the end of next year.
The evidence comes from a detector on Voyager that counts the number of protons streaming from the sun as solar wind. By counting the proton hits in all directions, the team can calculate the speed and direction of the solar wind – after adjusting for the spacecraft's speed of some 38,000 m.p.h.
During the past three years, the wind's speed has dropped from 93,000 m.p.h. to zip.
"That wasn't supposed to happen," says Stamatios Krimigis, a solar physicist and emeritus head of the Space Department at the Johns Hopkins University's Applied Physics Laboratory in Laurel, Md., who led the team that conducted the study. "We're not supposed to be in a wind that isn't going anywhere."
---