Heat wave: What's behind this summer's record heat?
Heat wave conditions are likely to continue into August. The Climate Prediction Center (CPC) is forecasting a continuation of the heat wave – hotter-than-normal temperatures across the Desert Southwest and points east across the Deep South.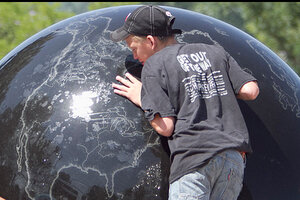 Nati Harnik/AP
The eastern two-thirds of the United States is currently in the midst of a spell of oppressively hot and humid weather which shows little sign of breaking before the end of this month.
In some locations, the heat has been intense, with triple-digit temperatures combined with a lack of any significant precipitation which has lead to severe drought conditions. The drought, in turn, has seriously interfered with farming in the nation's heartland and across the Southern Plains.
So just what is the cause for this incredible siege of hot and dry weather?
Inflating like a balloon
Coinciding with Independence Day weekend, a ridge of high pressure both in the lower and upper levels of the atmosphere began to inflate almost like a balloon over the middle of the country. Because high pressure is associated with sinking air, air from the upper levels of the atmosphere descends and rotates outward; compression effects warm the air, as well as dry it out.
The outward flow also prevents other weather systems from moving in. Because high pressure is also associated with fair skies, cloudiness is kept to a minimum. Under clear skies, the intense sunshine can become punishing; as the air mass continues to receive insolation, its heat content is maintained. [Related: Weirdo Weather: 7 Rare Weather Events]
Now, nearly three weeks after it began to evolve, the upper level weather charts at what meteorologists refer to as the 500-millibar level — an altitude of roughly 18,000 feet — show a tremendously large, closed high pressure system enveloping much of the nation's midsection. And anytime such a weather feature becomes established, weather forecasters know that there will be only very slow changes in the weather, because there are no upper winds to steer the high pressure system away. And the longer the high remains there, the hotter and increasingly humid air is pumped up from the Gulf of Mexico.
---