Shuttle Atlantis releases tiny satellite before returning to Earth
Shuttle Atlantis put PicoSat, a US military satellite, into orbit Wednesday morning. See video below of space shuttle Atlantis leaving the International Space Station for the last time.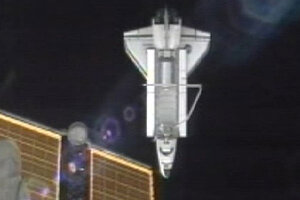 NASA/AP
The space shuttle deployed its last satellite Wednesday morning (July 20), just one day before the shuttle Atlantis is set to land for the final time, with astronauts reciting a poem for the occasion.
The release of a tiny satellite called PicoSat for the U.S. Department of Defense was the last in a long, long list of accomplishments for NASA's 30-year-old space shuttles. After Atlantis lands on Thursday (July 21), those ships will be retired for good.
The small spacecraft is the 180th and final payload ever deployed from a space shuttle. [Photos: Shuttle Leaves Space Station for Last Time]
After PicoSat's release into orbit, Atlantis mission specialist Rex Walheim read a special poem about the shuttle's history of payload deployment.
"One more satellite takes its place in the sky
The last of many that the shuttle let fly
Magellan, Galileo, Hubble, and more
Have sailed beyond her payload bay doors
There's still science books, and still more to come
The shuttle's legacy will live on when her flying is done
We wish PicoSat success in space where it roams
They can stay up here, but we're going home
Yes, soon for the last time we'll gently touch down
Then celebrate the shuttle with our friends on the ground," Walheim said.
"Outstanding, Rex, we applaud you," spacecraft communicator Barry Wilmore said amid cheers from Mission Control.
---