Solar storms: Two breakthroughs could lead to better warnings
The solar storms that cause blackouts and damage satelites have always been hard to predict, but two new methods of monitoring them could lead to much more accurate forecasts.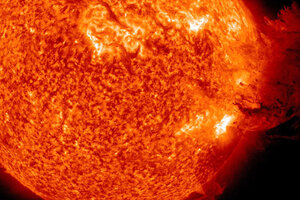 SDO/NASA/Reuters
Intense solar storms can disrupt satellites, airline and electric-utility operations, and, in the case of astronauts on orbit, directly endanger lives.
Thursday, independent teams of researchers unveiled a pair of storm-tracking techniques that could significantly improve forecasts of "space weather" storms, the researchers say.
One team's approach tracks magnetic fields while they are still taking shape nearly 40,000 miles below the sun's surface, well before they form and corral groups of sunspots on the solar surface. These sunspot groups represent active regions that spawn coronal-mass ejections – outbursts that can send up to 1 billion tons of hot plasma hurtling through space at up to 1 million miles an hour.
The second team used a pair of sun-watching satellites to build detailed images of a coronal-mass ejection and its evolution as it traveled from the sun to Earth. Until now, researchers had been able to track these eruptions in detail for only about the first 20 percent of the trip, yet a cloud's structure and speed, among other traits, can change markedly across the missing 80 percent of the trip.
Between the two projects, the teams have developed tools to track some of the most severe types of space weather from gestation within the sun to delivery at Earth's doorstep.
"For the first time, we're beginning to see a complete, predictive system," says Craig DeForest, a solar physicist at the Southwest Research Institute in Boulder, Colo., who led one of the two teams.
For federal space-weather forecasters, these techniques could lead to substantial improvements in the accuracy of their forecasts.
---