Hurricane Irene video by NASA astronaut
Hurricane Irene was captured on video and in photos from the International Space Station by US astronaut Ron Garan.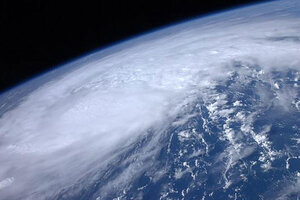 NASA/Ron Garan
As Hurricane Irene nears the United States, an American astronaut has snapped a stunning view of the powerful storm from space.
NASA astronaut Ron Garan photographed the Category 2 hurricane Monday (Aug. 22) while gazing down on Earth from the International Space Station, which he and five other spaceflyers currently call home.
"Hurricane #Irene #FromSpace as it passed though the Caribbean yesterday (8/22/11) @ 7:34pm GMT," Garan wrote in a Twitter post that accompanied the photo. "Plz Be Prepared." Garan posts updates about life on the space station 220 miles (354 kilometers) under the name @Astro_Ron. [See Ron Garan's photos of Hurricane Irene and Earth]
Hurricane Irene is the first hurricane to form during the 2011 Atlantic hurricane season, which began on June 1. It is currently a Category 2 type storm on the Saffir-Simpson scale of hurricane strength, with wind speeds of about 100 mph (160 kph).
---