Hurricane Irene getting bigger, stronger
Hurricane Irene strengthened to a Category 2 hurricane Monday. Forecasts show it will miss Florida, but Irene may grow as it moves toward the Carolinas.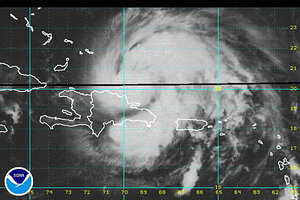 AFP / NOAA / NEWSCOM
Hurricane Irene was expected to strengthen over the next few days and could hit the southeastern United States as a large and powerful storm late in the week, forecasters said Tuesday.
The U.S. National Hurricane Center's forecast indicated Irene, now classified as a Category 2 storm, may become a major Category 3 storm, with winds over 111 mph, before hitting the southeast U.S. coast by the weekend.
The first hurricane of the 2011 Atlantic season, which was as large as it was intense, was expected to swing parallel to Florida's east coast Thursday for a possible landfall in North or South Carolina Saturday.
Irene, the ninth named storm of the busy 2011 Atlantic season, looks set to be the first hurricane to hit the United States since Ike savaged the Texas coast in 2008.
The storm's core was expected to pass north of the Dominican Republic and Haiti early Tuesday and the southeastern Bahamas by late in the day. It was moving to the west-northest at 12 mph. Hurricane-force winds extended outward from the core to 50 miles and tropical storm-force winds extended out up to 205 miles.
The storm could be the catalyst the insurance industry has been seeking in its quest for across-the-board premium increases, in what already promises to be the costliest year in history for natural disasters around the globe.
---