Fine art of hurricane tracking: Push is on for the 7-day forecast
NOAA currently forecasts the paths of storms five days ahead. But scientists hope to identify storm systems sooner and better predict when one is poised to intensify – thereby improving hurricane preparedness.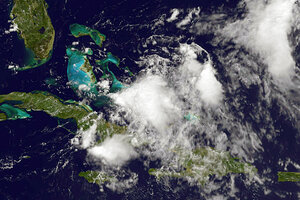 NOAA GOES Project/NASA/Reuters
For several days, forecasters at the National Hurricane Center in Miami had been monitoring a broad patch of storms developing in the far eastern Caribbean. The key question: Would it blossom into a tropical storm?
At 7:35 p.m. on Aug. 1, forecasters announced that what had been a disorganized system 24 hours before had quickly become the season's fifth tropical cyclone, Emily. Tropical-storm warnings were promptly posted for nearby islands, but the lead time for locals was virtually nil.
Emily's relatively quick shift from a jumbled collection of storm clouds to an organized tropical storm highlights a pair of intricate puzzles that scientists – armed with fresh data, upgraded forecasting models, and a storm-chasing drone – are pushing to solve: How can they identify the storm systems most likely to organize into tropical cyclones, and how can they better forecast when a storm is about to suddenly intensify?
The first question is central to the National Oceanic and Atmospheric Administration's (NOAA) attempts to develop seven-day storm-track forecasts – up from five days, currently. And the second is crucial to making sure a storm doesn't pack a surprise when it is about to make landfall. Together, the two agency priorities could significantly aid preparedness in the United States.
Already, research over the past 30 years has helped forecasters cut the errors in track forecasts by 50 percent, says Frank Marks Jr., who heads the hurricane-research division at the NOAA Atlantic Oceanographic and Meteorological Laboratory in Miami.
---