Japan's earthquake actually altered Earth's gravity, scientists find
The 9.0 magnitude earthquake that struck Japan in March was the fifth most powerful earthquake ever recorded. The quake also altered the distribution of the Earth's mass, affecting the pull of gravity near the epicenter.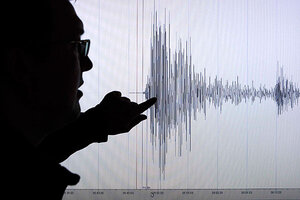 Fabrizio Bensch/Reuters/File
The devastating earthquake that struck Japan earlier this year was powerful enough to slightly alter the pull of gravity under the affected area, scientists now find.
Anything that has mass has a gravity field that attracts objects toward it. The strength of this field depends on a body's mass. Since the Earth's mass is not spread out evenly, this means its gravity field is stronger in some places and weaker in others.
The magnitude 9.0 Tohoku-Oki temblor in March was the most powerful earthquake to hit Japan and the fifth-most powerful quake ever recorded. To see how the temblor might have deformed the Earth there, scientists used the Gravity Recovery and Climate Experiment (GRACE) satellites to analyze the area's gravity field before and after the quake.
The researchers found the Tohoku-Oki quake reduced the gravity field there by an average of two- millionths of a gal by slightly thinning the Earth's crust. In comparison, the strength of the gravitational pull at the Earth's surface is, on average, 980 gals. (The gal, short for Galileo, is a unit of acceleration; one gal is defined as one centimeter per second squared.)
---