NASA's Curiosity Mars rover to 'lay the foundation' for search for life [Video]
The size of a small car, NASA's one-ton Curiosity Mars rover contains twice the number of scientific instruments as its predecessors, plus a drill that will allow it to bore into the Red Planet's rocks.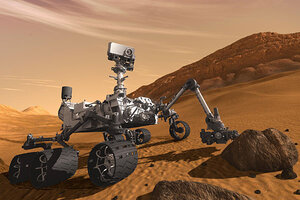 NASA/JPL-Caltech/Reuters/Handout
After nearly a decade of planning, several cost overruns and a two-year delay, NASA is finally set to launch its next Mars rover this week.
The car-size Curiosity rover, the centerpiece of NASA's $2.5 billion Mars Science Laboratory (MSL) mission, is slated to blast off from Florida's Cape Canaveral Air Force Station on Saturday (Nov. 26) after a one-day delay due to a rocket battery issue. The launch comes two years later than the MSL team had originally planned, a slip that ultimately increased the mission's lifetime costs by 56 percent.
But with Curiosity now sitting on the pad, nestled atop its Atlas 5 rocket, MSL's past issues are receding deeper into history. Most eyes are now on the rover's future — its quest to determine if Mars is, or ever was, capable of supporting microbial life.
"This is a Mars scientist's dream machine," Ashwin Vasavada, MSL deputy project scientist at NASA's Jet Propulsion Laboratory (JPL) in Pasadena, Calif., told reporters on Nov. 10. "This rover is not only the most technically capable rover ever sent to another planet, but it's actually the most capable scientific explorer we've ever sent out." [Photos: NASA's Mars Science Laboratory Rover]
---