Climate change: 2011 temperatures the hottest ever during La Nina
Climate change studies show rising global temperatures – the 10th highest ever – and shrinking ice caps. This year saw the lowest volume of Arctic sea ice ever recorded, due to global warming, say scientists.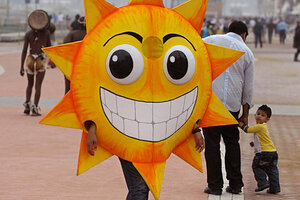 AP Photo/Schalk van Zuydam
The world is getting hotter, with 2011 one of the warmest years on record, and humans are to blame, a report by the World Meteorological Organisation (WMO) said on Tuesday.
It warned increasing global average temperatures were expected to amplify floods, droughts and other extreme weather patterns.
"Our science is solid and it proves unequivocally that the world is warming and that this warming is due to human activities," WMO Deputy Secretary-General Jerry Lengoasa told reporters in Durban, where almost 200 nations are gathered for U.N. climate talks.
The WMO report was released to coincide with U.N. climate talks which run until Dec. 9 in Durban aimed at trying to reach agreement on cutting planet-warming greenhouse gas emissions.
Prospects for a meaningful agreement appear bleak with the biggest emitters the United States and China unwilling to take on binding cuts until the other does first. Major players Japan, Canada and Russia are unwilling to extend commitments that expire next year and the European Union is looking at 2015 as a deadline for reaching a new global deal.
---