Rats actually pretty nice to each other, study finds
A study published in the journal science showed that rats, despite their reputation for being disloyal, are actually quite empathetic, helping to free their trapped cagemates even if there is no obvious reward for having done so.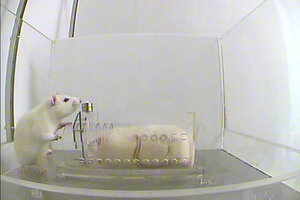 Science/AP
The act of helping others out of empathy has long been associated strictly with humans and other primates, but new research shows that rats exhibit this prosocial behavior as well.
In the new study, laboratory rats repeatedly freed their cage-mates from containers, even though there was no clear reward for doing so. The rodents didn't bother opening empty containers or those holding stuffed rats.
To the researchers' surprise, when presented with both a rat-holding container and a one containing chocolate — the rats' favorite snack — the rodents not only chose to open both containers, but also to share the treats they liberated.
Peggy Mason, a neuroscientist at the University of Chicago and lead author of the new study, says that the research shows that our empathy and impulse to help others are common across other mammals.
"Helping is our evolutionary inheritance," Mason told LiveScience. "Our study suggests that we don't have to cognitively decide to help an individual in distress; rather, we just have to let our animal selves express themselves."
Empathetic rats
In previous studies, researchers found that rodents show the simplest form of empathy, called emotional contagion — a phenomenon where one individual's emotions spread to others nearby. For example, a crying baby will trigger the other babies in a room to cry as well. Likewise, rats will become distressed when they see other rats in distress, or they will display pain behavior if they see other rats in pain.
---