Yeti crabs and ghost octopuses! Antarctic deep-sea vents a trove of new species.
Yeti crabs heaped in piles, predatory sea stars stalking the perimeter, and ghostlike octopuses are among the extraordinary species discovered clustered around hydrothermal vents below the frigid waters of the Southern Ocean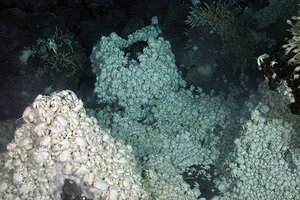 NERC ChEsSo Consortium
Scientists doing their first exploring of deep-sea vents in the Antarctic have uncovered a world unlike anything found around other hydrothermal vents, one populated by new species of anemones, predatory sea stars, and piles of hairy-chested yeti crabs.
It was "almost like a sight from another planet," said expedition leader Alex Rogers, a professor of zoology at Oxford University.
Even in the eye-popping world of deep-sea vents, the Antarctic discoveries stand out, with the unfamiliar species of crabs found crowded in piles around the warm waters emanating from the seafloor. Many of the animals found at the vents have never been found at hydrothermal vents in other oceans, Rogers said. "To see these animals in such huge densities was just amazing," Rogers told LiveScience.
In the dayless world of deep-sea vents, energy comes not from the sun but from the hydrothermal energy generated in the oceanic crust.
The yeti crabs seem to cultivate "gardens" of bacteria on their chests, which are covered with hairy tendrils. These bacterial mats almost certainly provides the crabs with sustenance, Rogers said. In turn, predatory seven-armed sea stars stalk the periphery of the vents, snacking on unfortunate crabs. [See video and photos from the vents]
"We were absolutely stunned to see the animal communities, because they were so different from the hydrothermal vents seen elsewhere," Rogers told LiveScience. He and his colleagues reported their results today (Jan. 3) in the journal PLoS Biology.
---