'Monster' washes ashore in Canada: Is it the Chupacabra?
No. It's probably just a decomposed mink.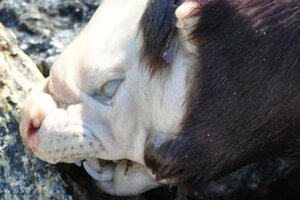 Newscom
Earlier this month two nurses in the town of Kitchenuhmaykoosib in northern Ontario, Canada, found a bizarre creature on a lakeshore while walking with their dog Sam. Sam sniffed at something dark and furry that was lying face down in the water, and promptly pulled out a strange beast unlike anything the pair had ever seen.
It was a smallish creature about a foot long (it's not clear if that includes the tail), and didn't look unusual — except for the monster's ghostly, hairless white face and creepy fangs. The nurses took a few photos of the smelly thing and left it there. It was little more than a regional curiosity until photos of it recently appeared on the Web.
Speculation ran rampant: Some said it resembled an otter, or a boar, or weasel. Some suggested it might be another Montauk Monster — one of the dead, decaying raccoons that washed up on American beaches in 2008 and 2009. Others were convinced it was a baby lake monster or el chupacabra, the Hispanic vampire beast.
IN PICTURES: Monsters of the deep
Some immediately assumed that it was linked to mysterious creatures mentioned by First Nations (North American Indian) myths and legends. For example, according to news reports some of the First Nations groups believe it is a rare beast known as an omajinaakoos, meaning "The Ugly One" — and which is a bad omen. The monster's discovery has some on edge, wondering if its discovery is a sign of some terrible tragedy to come.
---