Red Planet meets red ink: budget ax could chop two NASA Mars missions
The budget to be released by President Obama Monday is expected to include a one-third cut in NASA's Mars program, in part to pay for other cost overruns within the agency.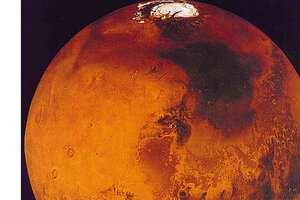 Handout/REUTERS
The most successful Mars exploration program in human history appears headed for serious downsizing as the White House and Congress struggle to tackle America's fiscal woes.
In the budget President Obama is sending to Congress Feb. 13, NASA's space-science program is slated for a 20 percent cut from its current level. The Mars exploration portion is expected to be cut by more than a third, according to early reports.
Overall, the reports suggest that the total budget request for NASA will come in close to this year's budget of $17.8 billion. But the agency is having to absorb significant cost overruns for the James Webb Space Telescope, successor to The Hubble Space Telescope, and has had to do likewise with the Mars Science Laboratory, currently en route to the red planet.
Meanwhile, the agency's Earth-science and human-spaceflight efforts are expected to fare better.
To be sure, whatever the president sends to Capitol Hill on Monday only begins the budget conversation for fiscal year 2013, analysts caution.
"The president's budget is just a proposal," says Howard McCurdy, a space-policy specialist at American University in Washington who tracks space and technology policy.
Already, members of Congress from California and Texas are vowing to fight the cuts to the Mars program. Others are expected to follow.
The cuts "reflect the new reality" in which the economy, budget deficits, and the federal debt have elbowed their way to the top of Washington's agenda, McCurdy adds.
NASA accounts for only about 0.5 percent of the federal budget. But it falls under the broad category of discretionary spending – the category easiest to pare when budgeteers hunt for spending cuts. The government is having to cope with mandatory cuts that kicked in for fiscal year 2013 after a "super committee" in Congress failed to craft a bipartisan plan to deal with the deficit.
---