Obama's NASA budget: Mars takes a hit, but space science isn't dead
Two major Mars missions lost out to the James Web Space Telescope in Obama's proposed NASA budget, but there's still money for other ambitious space-science missions.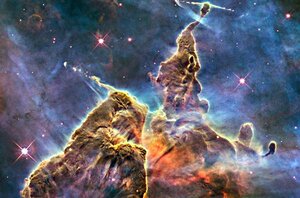 NASA/AP/File
Reports of the demise of ambitious space-science missions at NASA may be somewhat exaggerated.
To be sure, in President Obama's fiscal 2013 budget proposal, two major Mars missions for 2016 and 2018 lost a budgetary wrestling match with the replacement for the Hubble Space Telescope, the James Web Space Telescope.
But Mr. Obama's plan also includes money to begin preliminary studies on a mission to Saturn's moon Enceladus, as well as an orbiter-probe mission to Uranus.
Both represent major "flagship" projects. And the Uranus mission was the planetary-science community's only pick for a flagship mission under a "cost constrained" budget in it's latest 10-year survey, released last year, which outlines the community's research priorities for 2013-2022.
Indeed, with the high-profile exception of Mars, money for the other "cost constrained" priorities – data analysis from existing and past missions as well as money for two other classes of robotic missions in NASA's portfolio – have been targeted for budget increases.
"If you want to set the decadal survey side by side with the NASA budget you're going to find that a lot of the priorities are being pursued," says Roger Launius, a former NASA historian and now curator of planetary exploration programs at the Smithsonian Institution's Air and Space Museum in Washington.
Spending levels may not be as high as advocates want, he adds, "but it's not as though NASA said, 'We're not doing this. We're not doing that. Go pound sand.' "
---