Explainer: What is the Heartland Institute?
Leaked documents from the Heartland Institute, which seeks to promote global warming skepticism, show an array of unlikely donors.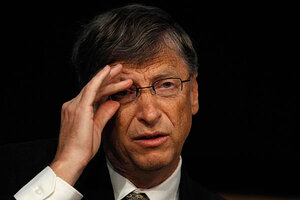 Suzanne Plunkett/Reuters
The climate change debate just got noisier. Leaked internal documents from the Heartland Institute have revealed the Chicago-based think tank's strategies for promulgating skepticism of the belief that humans are warming the planet.
The documents were acquired through email by an outside source pretending to be a part of the Institute. They were then posted on the DeSmogBlog, a blog that seeks to discredit industry-funded climate skepticism, and their contents have been widely dissected in news reports. But few media outlets go into detail about exactly what the Heartland Institute is.
Founded in 1984 by Chicago investor David H. Padden, the Heartland Institute initially focused on government policies that affected the American Midwest. Now it seeks to influence policies that have an impact on the entire planet.
According to its website the Heartland Institute promotes laissez-faire economics, stating that its mission is to "discover, develop, and promote free-market solutions to social and economic problems."
Heartland's current CEO is Joseph L. Blast. Its staff of 40 works mostly in its Chicago offices, but the Institute also has 10 employees in Washington, D.C. Its panel of policy advisors, who provide what the Institute calls "Intellectual Ammunition", includes 130 members, most of whom are economics and law professors. Despite its conservative philosophy, the Heartland Institute says that it "is not affiliated with any political party, business, or foundation."
In reality, the Heartland Institute is an amorphous nexus of different groups and interests with just enough overlap in their ideologies to gather under the banner of a mission statement, but not enough to make the Institute a cohesive special-interest group. At the surface, the institute is composed of economists, businesspeople, politicians, and contrarian scientists.
---