Goats apparently have accents, report goat experts
A study of young goats found that the animals' social environment helps shape their calls.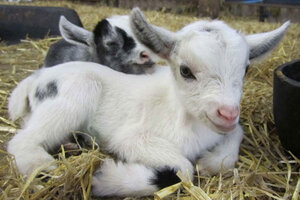 Elodie Briefer
Goats don't have their own language, but they do seem able to pick up accents from one another, scientists found in a study of calls made by young goats.
The researchers say their results could have implications for our understanding of the evolution of vocal learning, or as it is known in humans, speech.
The ability to learn a range of sounds and modify them according to the environment was thought to be reserved to a handful of animals, including some birds, whales, dolphins, bats, elephants, and the most extreme example, us.
The goat calls reveal these animals are capable of a rudimentary form of vocal learning, and they hint that similar abilities may have gone undetected elsewhere, according to researchers at Queen Mary University of London.
"This suggests an early step in the evolution of vocal communication, leading to the advanced and unique vocal-learning abilities found in humans, which allow us to speak," write study researchers Elodie Briefer and Alan McElligott in a study made available today (Feb. 15) by the journal Animal Behavior.
Goats are social animals that live in groups and make "contact calls" to one another to stay in touch, Briefer explained.
---