James Cameron makes final preparations for historic deep-sea dive
Weather permitting Saturday, explorer and filmmaker James Cameron could take his Deepsea Challenger to the bottom of the world, a place of perpetual cold, darkness, and abiding mystery.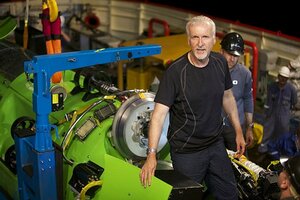 Mark Thiessen/National Geiographic/AP
There was none of the usual Hollywood fanfare as James Cameron pulled up anchor and headed out to sea with his cast of adventurers last Monday on the final, spectacular leg of what will arguably be the greatest production he has ever worked on.
The departure of the Mermaid Sapphire and Barakuda expedition vessels from Apra Harbor Guam, set the famously thrill-seeking film director on course to dive in a 12-ton submersible to the bottom of the world, a place of perpetual cold and darkness, life-threatening depth, and abiding mystery.
Inclement weather has kept Cameron from his goal over the last few days, prolonging the suspense and forcing him and his team of more than 60 support workers, technical advisers, scientists and family to wait it out for most of the week on the tiny Pacific atoll of Ulithi.
But with a possible window in the weather Saturday, the big moment could now be just hours away. Cameron, 57, and his Deepsea Challenger are ready to roll, he announced through National Geographic, his expedition partners, early this morning.
RELATED: Are you scientifically literate? Take our quiz
The journey will, if all goes well, take him seven miles below the surface of the Pacific Ocean to Challenger Deep, the lowest known point on Earth, located in the Mariana Trench south-west of Guam.
---