Horsehair helps locate the origins of domestication
A new study points to the area made up of Kazhakstan, Russia and Ukraine as the region that was home to the first domesticated horses.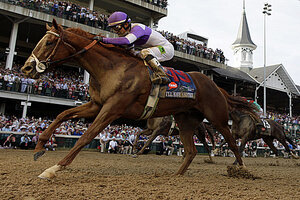 AP Photo/David J. Phillip
A genetic study of horses across Eastern Europe and Central Asia has traced the domestication of one of man's most powerful animal allies to wide-open grasslands shared by Ukraine, southwest Russia and Kazakhstan, researchers said Monday.
Researchers generally date domestication to about 6,000 years ago, but genetic evidence taken from modern-day horses has suggested a wide variety of ancestors, raising the possibility that horses were tamed independently in several different places.
The University of Cambridge's Vera Warmuth said she and her colleagues had used a combination of genetics and math to narrow down the origin of horse domestication to the "western Eurasian steppe" — an area now shared by Kazhakstan, southwest Russia and Ukraine.
The research followed 16 years of collecting hair samples from more than 300 horses in Russia, China, Ukraine, Kazakhstan, Kyrgyzstan, Mongolia and Lithuania — areas where horses were the first to be domesticated and weren't too heavily bred.
---