Kentucky Derby: Will mighty white steed ride to rescue of struggling sport?
A white horse has never won the Kentucky Derby, so the entry of nearly pure white Hansen makes for a good story. But it likely won't be enough to bring horse racing back into the mainstream.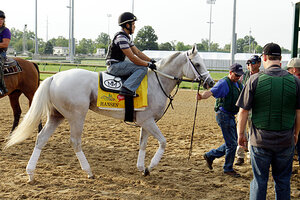 Garry Jones/AP
Mint juleps and outrageous flowered hats aside, horse racing only pops up on the mainstream radar a few times a year. Fans and TV network executives behind Saturday's Kentucky Derby are always on the lookout for an angle to draw the general viewer back into what has become a niche sport of wealthy owners and weekend handicappers.
This year's novelty is a doozy, appearing as quite literally the mighty white steed. This guilty pleasure for the casual viewer is Hansen, a nearly pure white two-year-old whose owner wears a T-shirt that says, "The Great White Hope."
A white horse has never won the Kentucky Derby, points out veteran sports commentator Frank Deford in his Sports Illustrated column, "so Hansen could be the first."
White horses are rare among thoroughbreds, accounting for less than 8 percent of foals per year. But what makes Hansen even more unique is that he is technically a gray with dark skin as opposed to the pink skin of an albino. Grays often whiten up as they mature, but it is extremely rare for a horse this young to turn more than 90 percent white as Hansen has done.
Fans are clearly hoping that the mystique of the dazzling white competitor will turn more eyes on the sport.
"Anything that gets people more interested in the sport is good for it overall," says Dan Collins, a Baltimore PR professional whose family trained thoroughbreds and who became a lifelong handicapper.
White horses are a very popular cultural reference, he notes. "As the media puts out its stories, they'll keep mentioning Hansen, 'the white horse,' and all these past references will come flooding into people's minds," he says.
---