Horse racing moves to reform, but faces many skeptics
A new overseer, Tommy Thompson, promises to be tough on doping and other questionable practices.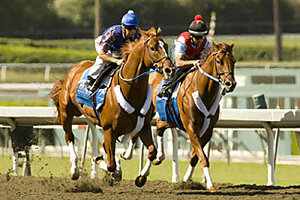 Benoit Photo/AP
America's horse-racing industry is trying to clean up its image with a new high-profile overseer and promises of voluntary certification for tracks that meet tough standards.
But it still has to convince Congress and skeptical animal-rights groups who have called for mandatory federal regulation in the wake of high-profile racing deaths, charges of widespread doping, and the treatment of retired racehorses.
"[The racing industry] is trying to head off at the pass some federal intervention that they think could really change the industry in ways that could be detrimental," says Tim Capps, a horse-racing expert at the University of Louisville. "But at the end of the day, is anything really going to change?"
Reform of the tradition-bound $40 billion industry will be a daunting task. The sport is trying to change behaviors of owners, breeders, trainers, jockeys, and track operators across 38 different state racing jurisdictions.
With that goal in mind, the National Thoroughbred Racing Association (NTRA) hired Tommy Thompson, former cabinet secretary under President Bush and former co-owner of Derby racer Flashy Bull, to monitor the sport's progress.
---