Report: Wildfire risks around the world likely to change dramatically
Previous studies produced projections of changing fire risks for individual regions. A new study attempts to gauge future changes to wildfire patterns globally as the climate warms.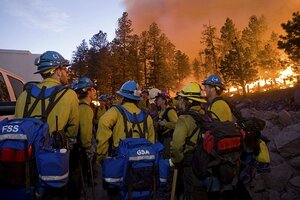 Kari Greer/US Forest Service/Reuters
Wildfire risks around the world are likely to change dramatically during the latter half of this century, with some types of terrain projected to see dramatic increases in likelihood and in the expanse of fire-prone areas during the next 30 years, according to a new study.
The areas at highest risk for increased fires in the short term include landscapes familiar to residents of the western United States – Mediterranean forests, woods, and scrub, such as those that blanket the coastal ranges of California, alpine grass and shrublands, desert shrublands, and forests dominated by conifers.
But over the longer term, significant increases in fire frequency are expected over a much wider range of ecosystems – as are significant decreases.
IN PICTURES: Colorado wildfires
Indeed, decreases in fire frequency often take a back seat to efforts to project places where fires are likely to increase. Yet the declines can be just as important, suggests Max Moritz, a fire ecologist at the University of California, Berkeley and the lead author of the study, which was published this month in the journal Ecosphere.
"You're worried about the right kind of fire being maintained or restored in these systems," he says. "Big decrease in fires … could be just as disruptive ecologically as a big increase."
For instance, the decreases could allow vegetation types alien to the existing landscape to move in and alter the region's ecology in unpredictable ways. Or fewer fires would allow fuels to build up to levels that allow the fires that finally occur to reach catastrophic levels.
---