Heat wave 2012 culprit? That pesky Atlantic oscillation
Heat wave 2012 was expected to peak Saturday, with cooler temperatures – by as much as 15 degrees – expected early in the week. But a hotter-than-usual pattern has been established.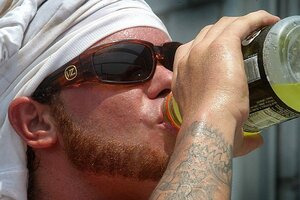 Chuck Beckley/Daily News/AP
Thermometers strained again on Saturday as the eastern half of the United States faced Day 10 of Heat wave 2012, with temps creeping up into the humid 100s as sweaty Americans sought out pools, ponds, oceans, and rivers for relief.
The stretch of brow-wiping weather has proved historic, shattering thousands of heat records since June, and leaving parts of the Washington, D.C., area sweltering without power and air conditioning after a rare "derecho" thunderstorm hit the area last weekend. Authorities say 23 people across the country have died from heat-related causes in what's on pace to become the hottest year on record, leaping ahead of 1934.
Even Atlanta, affectionately known as "Hotlanta," saw its highest recorded temperature last week. And those living in places like St. Louis, Mo., have found themselves at the epicenter of a quirky set of meteorological circumstances that, were one to prognosticate, are likely to make it a particularly long July, which under normal circumstances is already the hottest month of the year.
---