Toothbrush-wielding, spacewalking astronauts repair space station
A stubborn bolt on the International Space Station finally cooperated, thanks to a pair of spacewalking astronauts with improvised tools.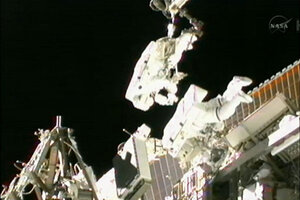 NASA TV/Handout/Reuters
A pair of spacewalking astronauts cleaned, greased and finally coaxed a jammed bolt into position on Wednesday, restoring the International Space Station's power system.
The spacewalk by NASA astronaut Sunita Williams and Japan's Akihiko Hoshide was the second in a week to replace a key part of the station's power system.
The astronauts were able to remove the faulty 220-pound (100-kg) device, known as a main bus switching unit, during a spacewalk last Thursday, but were unable to bolt a replacement into position.
While engineers at NASA's Johnson Space Center in Houston mulled over repair options, Williams and Hoshide spent the weekend fashioning tools to clean the bolt and its receptacle of metal shavings and other debris believed to be causing the problem.
The homemade tools included a wire brush formed from a spare cable and another fashioned out of a toothbrush.
Toting their makeshift brushes and bags of tools, Williams and Hoshide left the station's airlock shortly after 7 a.m. EDT (1100 GMT) and headed to where they had tethered the new power distributor into position on the station's metal framework.
They used puffs of compressed nitrogen gas to blow away debris, brushed the bolt clean and wiped it with greased cloths. Hoshide also practiced with a spare bolt to get a feel for how much force would be needed to drive the real one into its receptacle.
The moment of truth came 4-1/2 hours into the 6-1/2-hour spacewalk with Williams gently wiggling the bolt and Hoshide tightening it down.
---