Will NASA's Mars rover find signs of life? A Q&A with a Curiosity astrobiologist.
NASA's Danny Glavin is among those leading the search for amino acids and nucleobases on the surface of Mars.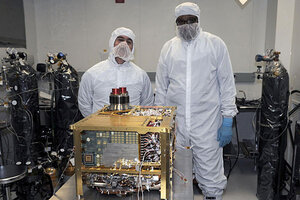 NASA
The Mars rover Curiosity — the centerpiece of NASA's $2.5 billion Mars Science Laboratory (MSL) mission — has 10 instruments to help it characterize the Martian environment and determine if the planet ever had the potential to support life.
One of these is the Sample Analysis at Mars instrument, or SAM. Roughly the size of a microwave oven, SAM — actually a collection of three separate instruments — will analyze samples taken by Curiosity's robotic arm, looking for carbon-based compounds.
MSL participating scientist Danny Glavin, of NASA's Goddard Space Flight Center in Greenbelt, Md., is one of the SAM team members who will try to determine if the building blocks of life could ever have survived on the surface ofMars. Here, he shares his thoughts on SAM and its role in Curiosity's mission.
What kind of science do you generally do?
Glavin: At NASA-Goddard, I work with a team of researchers in the Astrobiology Analytical Laboratory. Half my time I spend analyzing meteorites and other materials from space. We've looked at samples returned from the Stardust comet mission, we study lunar samples and meteorites that are found in Antarctica, including meteorites from Mars.
---