'Beetlejuice' sparks? Meteor shower brings 'shooting stars' and 'earthgrazers'
The increasing intensity of the annual Orionid meteor shower will be on full display Saturday night and Sunday morning as most of the US faces a cold, clear, moonless night – the perfect celestial screen.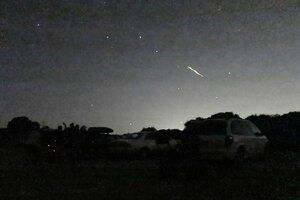 Phil Terzian/AP
Projected clear skies and low moonlight across much of the country Saturday night and Sunday morning will help fans of celestial phenomena witness a peak of whizzing visitors across the sky as part of the annual Orionid meteor shower.
Sky gazers can expect as many as 60 meteors an hour as the earth crashes into icy remnants abandoned by Halley's Comet when it shot by the planet in 1986. The meteor shower will originate near the orange-glowing Betelgeuse star that makes up the right shoulder of Orion (The Hunter), most easily found by his conspicuous belt of stars.
The objects are boulders of ice and rock breaking into the atmosphere at about 148,000 miles per hour. Most sizzle and burn, creating "shooting stars" and even "earthgrazers" that span the sky. Larger chunks may actually explode into fireballs loud enough to hear down here on earth.
RECOMMENDED: Are you scientifically literate? Take our quiz
(A large chunk of asteroid that entered the atmosphere and exploded just off the coast of northern California on Wednesday, in some cases shaking houses, was likely not part of the Orionids, NASA says.)
According to Weather.com, large sections of the Atlantic, the South, the Midwest, and Coastal West are likely to see crystal clear skies overnight. The moon has just begun to wax, meaning moonlight interference will be low.
---