Space station crew now at full strength
Following a two day journey, two cosmonauts and a NASA astronaut docked at the International Space Station. Thirty-two Japanese medaka fish also made the trip safely.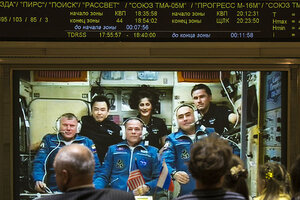 AP Photo/NASA,Bill Ingalls
A pair of rookie Russian cosmonauts and a veteran U.S. astronaut arrived at the International Space Station on Thursday, boosting the crew back to full strength and bringing along 32 Japanese medaka fish.
Soyuz spacecraft commander Oleg Novitskiy, flight engineer Evgeny Tarelkin and NASA's Kevin Ford ended a two-day journey with an 8:29 a.m. EDT (1229 GMT) docking at the orbital outpost as the ships sailed 254 miles (409 km) above the planet.
After making sure seals between the two spacecraft were airtight, the men joined space station commander Sunita Williams, Japanese astronaut Akihiko Hoshide and cosmonaut Yuri Malenchenko to return the station to its full, six-member crew.
The $100 billion station, a project of 15 nations, had had a crew of three onboard since Sept. 16 because of normal rotation schedules.
"It is so great to see all six of you on orbit and to see your smiling faces," William Gerstenmaier, NASA associate administrator for spaceflight, radioed to the crew from the Russian mission control near Moscow.
The 33rd space station crew blasted off on Tuesday aboard a Russian Soyuz rocket from the Baikonur Cosmodrome in Kazakhstan.
Ford, who flew as the pilot on a 2009 space shuttle mission, said he noticed different noises and vibrations riding on the Soyuz, but he found the trip just as enjoyable.
---