Antares vs. Falcon 9: How the two rockets ferrying NASA's cargo differ
SpaceX's Falcon 9 rocket has already proved itself able to get a cargo payload to the International Space Station. Orbital Sciences' Antares rocket, set for its first test launch Wednesday evening, is a very different animal.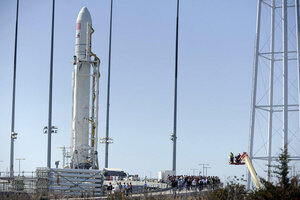 Jay Diem/The Daily Times/AP
Glistening white and standing 130 feet tall, the second of two commercial rockets NASA is relying on to ferry cargo to the International Space Station is set for its first test flight at 5 p.m. EDT Wednesday.
If all goes well, the Antares rocket, built and operated by Orbital Sciences Corp., will join Space Exploration Technologies Corp.'s (SpaceX) Falcon 9 as replacements for the space shuttles that carried cargo to and from the ISS. The Falcon 9 and its Dragon cargo capsule already have completed two formal resupply missions to the station.
"We did come late to this activity," acknowledges Frank Culberston, a former NASA astronaut and now an executive vice president at Orbital Sciences. The company signed on to NASA's Commercial Orbital Transportation Services (COTS) program about 1-1/2 years after the program began, after NASA dropped one of the two initial participants.
"We've been playing catch-up, but we've about caught up. By the end of next year, we should have another four or five cargo missions under our belt," he adds.
NASA's initial choice of two companies for the COTS program involved aerospace upstarts born within a year of each other. Now, the program has paired a grizzled spaceflight veteran with a precocious tweenager.
Orbital Sciences has been building satellites and building and launching rockets for more than 30 years. SpaceX was founded in 2002.
Their approaches to designing and building their rockets are markedly different.
---