Humongous Chicago sinkhole swallows three cars, injures one driver
Following a severe rainstorm, a sinkhole opened up in Chicago's South Side, devouring three cars and sending one driver to the hospital.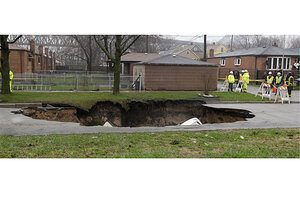 M. Spencer Green/AP
A sinkhole opened up on a residential street on Chicago's South Side on Thursday morning, swallowing three cars and sending one person to the hospital.
According to the Chicago Tribune, the sinkhole opened up at about 5 a.m. on Houston St. in Chicago's South Deering neighborhood, where it quickly expanded from about 20 feet in diameter to about 40 feet. Two parked cars initially fell into the hole, and a third fell in as its driver was attempting to navigate around the hole and the ground below gave way. He was taken to Northwestern Memorial Hospital and is in "serious-to-critical" condition
According to the Associated Press, the sinkhole was preceded by a severe rainstorm that ruptured a water main in the neighborhood. The AP quotes a spokesman from the city's water department, who speculated that the weight of the rain-soaked ground could have cracked the cast-iron pipe, which was laid in 1915. Water from the pipe would have then quickly eroded the soluble rock.
---