Strange new dinosaur discovered in Utah
A new, unusual-looking dinosaur, Nasutoceratops, offers evidence of how horned dinosaurs might have evolved in North America.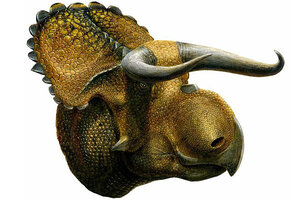 Lukas Panzarin/Mark Loewen
An unusual dinosaur from Utah's Cretaceous period has been categorized as a new genus, offering a new portrait of two distinct dinosaur communities in what is now the western United States.
Described in a study published in the current issue of Proceedings of the Royal Society B, Nasutoceratops titusi, or "big-nose, horn-face," is named for its most significant features: the two enormous horns protruding from its head and its prodigious snout. It the first from the group of short-frilled, horned dinosaurs to have been found in the American south, revising previous theories that those dinosaurs lived only in the north.
"It's not every day you find a whole new group of dinosaurs," says Scott Sampson, a paleontologist at The Denver Museum of Nature & Sciences and the lead author on the study, in a phone interview. "And this is a linchpin to demonstrate that there were distinct dinosaur communities in the north and south."
Nasutoceratops's nose is the biggest of that of any known dinosaur in the triceratops family, to which this new species belongs. But the part of the nose that is enlarged is not related to its sense of smell, and scientists are still unsure how its size benefited the animal, Sampson said.
Still, scientists are fairly confident that the humongous horns – the largest in the family in relative terms, as the Nasutoceratops's five-foot-long head is about half the size of that of other dinosaurs in the group – were used for mating purposes.
"The horns were not used to beat up on predators," said Dr. Sampson. "The horns were to compete for mates to attract members of the opposite sex, and to intimidate or possibly fight members of the same sex."
---