Ancient Egyptian jewelry came from outer space, say scientists
An analysis of beads discovered in a 5,000-year-old Egyptian tomb reveals their surprising origins, say archaeologists.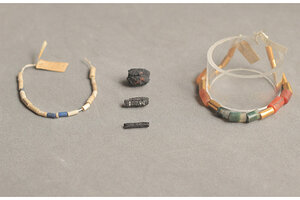 UCL Petrie Museum/Rob Eagle
Ancient Egyptian beads found in a 5,000-year-old tomb were made from iron meteorites that fell to Earth from space, according to a new study. The beads, which are the oldest known iron artifacts in the world, were crafted roughly 2,000 years before Egypt's Iron Age.
In 1911, nine tube-shaped beads were excavated from an ancient cemetery near the village of el-Gerzeh, which is located south of Cairo, said study lead author Thilo Rehren, a professor at UCL Qatar, a Western Asian outpost of the University College London's Institute of Archaeology. The tomb dates back to approximately 3200 B.C., the researchers said.
Inside the tomb, which belonged to a teenage boy, the iron beads were strung together into a necklace alongside other exotic materials, including gold and gemstones. Early tests of the beads' composition revealed curiously high concentrations of nickel, a telltale signature of iron meteorites. [See Photos of the Egyptian Beads & Other Meteorite Jewels]
"Even 100 years ago, [the beads] attracted attention as being something strange," Rehren told LiveScience.
---