Biblical-era town discovered in Israel
Biblical-era town: Archaeologists have discovered a town on the northwest coast of the Sea of Galilee dating back more than 2000 years.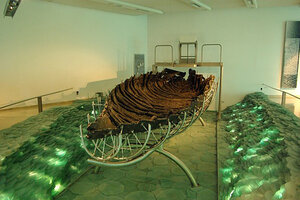 Photo by Berthold Werner, released into public domain, courtesy Wikimedia
A town dating back more than 2,000 years has been discovered on the northwest coast of the Sea of Galilee, in Israel's Ginosar valley.
The ancient town may be Dalmanutha (also spelled Dalmanoutha), described in the Gospel of Mark as the place Jesus sailed to after miraculously feeding 4,000 people by multiplying a few fish and loaves of bread, said Ken Dark, of the University of Reading in the U.K., whose team discovered the town during a field survey.
The archaeologists also determined that a famous boat, dating to around 2,000 years ago, and uncovered in 1986, was found on the shoreline of the newly discovered town. The boat was reported on two decades ago but the discovery of the town provides new information on what lay close to it.
---