Oreos addictive? Rats treat Oreos like cocaine, study suggests.
Oreos addictive: Undergraduate researchers at Connecticut College found that rats respond to Oreo cookies much like they respond to cocaine and morphine.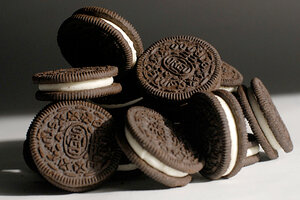 Mark Thomson / The Christian Science Monitor
If you happen to be a Nabisco executive who is currently considering adding cocaine to Oreo cookies' long list of ingredients, here's some research that says you needn't bother.
Undergraduate researchers at Connecticut College have found that rats tend to behave toward the iconic cookies the same way they behave toward cocaine and morphine.
The researchers – a team of four undergrads led by Conn College neuroscience professor Joseph Schroeder – placed rats in a maze with Oreo cookies on one side and rice cakes on the other, measuring the amount of time the rats spent on each side.
You can guess which one the rats preferred. "Just like humans, rats don't seem to get much pleasure out of eating [rice cakes]," said Dr. Schroeder, in a press release.
More surprising was just how much the rats craved the creme-filled cookies. Schroeder conducted a similar experiment, except that instead of tempting the rats with Oreos and rice cakes, he did so with injections of cocaine or morphine on one side, and saline injections on the other. It turns out that the rats spent as much time on the Oreo side of the maze in the Oreo experiments as they did on the drug side of the maze in the drug experiments.
"Our research supports the theory that high-fat/high-sugar foods stimulate the brain in the same way that drugs do," Schroeder said. "It may explain why some people can't resist these foods despite the fact that they know they are bad for them."
---