Were most cave painters women? Their hand prints say yes.
Cave paintings around the world often include hand stencils, impressions left by blowing paint around a hand. A new study measured those hands and concludes that 75 percent of hand prints in Spain and France show women's hands, not the hands of men or boys as has long been assumed.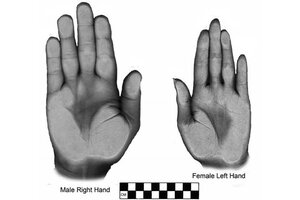 Courtesy of Dean Snow/Pennsylvania State University
Look at your hands. Is your ring finger longer than your index finger? And is your pinkie finger almost as long as your ring finger? If you answered yes to both questions, you're probably a man. (That or you're a woman with "man hands.")
The role of finger ratios to sex has been known for years, but a new study has taken that conclusion and pushed it in an unexpected direction: underground. Specifically, into caves that were painted about 30,000 years ago.
Ancient humans made hand prints or hand stencils on every inhabited continent in the world, but these cave paintings have always been attributed to men, because they're often associated with paintings of the creatures that early humans hunted, and probably for other reasons related to latent sexism. Smaller hands were attributed to young men or boys.
"When I first became aware of the digit ratio measure, by reading John Manning's book," says Dean Snow, an emeritus anthropology professor at Pennsylvania State University, "I walked over to the shelf and pulled off a book that's been sitting there for 40 years. I opened the flyleaf and there was a hand stencil from the cave at Pech-Merle, which I ended up using in my work. If John were anywhere near right, that was a woman's hand. It was not masculine at all. And so I thought, 'Wow, there were women down there! At least one. I wonder how many more there were?'"
---