Life on Mars? Only in The Sun.
(Read article summary)
The Sun, a UK tabloid, ran the headline 'NASA: Evidence of Life on Mars.' Not so much, say scientists at the US space agency.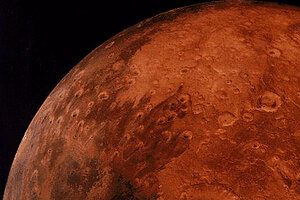 dmo/NASA/HO/Reuters/File
In its haste to become the first newspaper to print the "NASA: Evidence of Life on Mars" headline, the UK's Sun website caused a stir last week. Not only was this headline incorrect, it was a wee bit irresponsible.
For starters, no evidence for life has been found on the Red Planet. Second, NASA has not proclaimed such a discovery. In fact, The Sun riled the U.S. space agency so much, this headline prompted NASA spokesman Dwayne Brown to issue the following statement:
"This headline is extremely misleading. This makes it sound like we announced that we found life on Mars, and that is absolutely, positively false."
IN PICTURES: Mars Spirit rover
So where did it all go so wrong?
This story stems from an astrobiology conference celebrating the 50th anniversary of the search for alien life. At this conference, findings by NASA's Mars Exploration Rover Opportunity were reviewed. One of these findings was the tantalizing discovery of sulfates by the rover in 2004. Where there's sulfates, water once existed. Where there's water, life might have existed.
---