Why does China require that its astronauts be married?
(Read article summary)
Bachelors and bachelorettes need not apply to China's space program: If you want to ride in a Chinese rocket, you need to be hitched.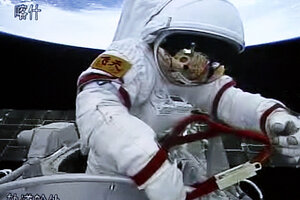 Xinhua/Photoshot
Probably seen as America's biggest space rival, China has recently emerged as a major space power after conducting their first space walk in 2008 (not to mention launching a lunar satellite around the Moon).
With future plans of launching a space station and sending Taikonauts (aka Chinese astronauts) to the Moon, China is going to need a lot of space pioneers–provided they are hitched to a spouse.
(Space.com) Earlier this year, Chinese space officials said that one requirement for China's first female astronauts was that they were married, a requirement that is also upheld for China's male astronaut candidates.
---