PIPA and SOPA: What you need to know
As PIPA and SOPA work their way through Congress, the controversial bills have raised many questions. The most common: Wait, what are PIPA and SOPA?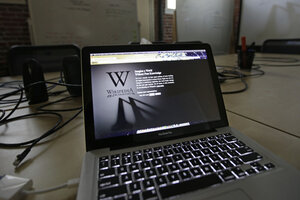 Eric Risberg/AP
Online piracy costs U.S. copyright owners and producers billions of dollars every year, but legislation in Congress to block foreign Internet thieves and swindlers has met strong resistance from high-tech companies, spotlighted by Wikipedia's protest blackout on Wednesday, warning of a threat to Internet freedom.
House and Senate bills that once seemed to be on a path toward approval now face a rockier future. House Speaker John Boehner on Wednesday said it was "pretty clear to many of us that there is a lack of consensus at this point."
Amid the high-tech campaign against the bills, several lawmakers came out in opposition. At least four Senate Republicans who had previously cosponsored the Senate bill — Orrin Hatch of Utah, Roy Blunt of Missouri, John Boozman of Arkansas and Charles Grassley of Iowa — issued statements Wednesday saying they were withdrawing their support. Democratic Sen. Ben Cardin of Maryland last week said that, after listening to constituent concerns, he could not vote for the Senate bill as it is currently written.
---