Verizon, Redbox team up to take on Netflix
Verizon and Red Box will soon roll out a streaming video service, which will compete with Netflix.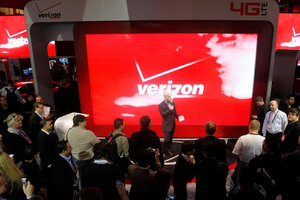 Isaac Brekken/AP/FILE
Phone company Verizon Communications Inc. will challenge Netflix and start a video streaming service this year with Redbox and its DVD rental kiosks.
Verizon and Coinstar Inc., Redbox's parent, say the service will be national and available to non-Verizon customers as well. It adds another leg to Verizon's quest to become a force in home entertainment, and it looks set to compete to some extent with the cable-TV services it already sells.
Verizon has its own cable-TV service, called FiOS, in some areas. Its Verizon Wireless subsidiary has also signed a deal to sell service from Comcast Corp. and other cable companies in its stores.
With the Redbox venture, Verizon is breaking ranks with the cable and satellite industry, which makes its own video streaming services available only to people who also subscribe to its traditional TV feeds. They don't want households switching to Internet-only services, which are cheaper — Netflix charges $8 per month for its video streaming plan.
Verizon's own FiOS business is relatively small, with 4.2 million subscribers, making it the seventh-largest provider of TV signals to U.S. homes. Meanwhile, its landline phone business is shrinking, so it needs other avenues for growth. Its wireless arm is growing, but it owns only 55 percent of that venture. (Vodafone Group PLC of Britain owns the rest.)
---