Forget .com, here come .pizza and .lol
Despite protests, companies with $185,000 to spare have applied for new domain suffixes – and some of them are downright weird.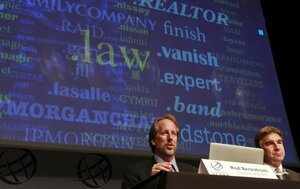 Tim Hales/AP
What do Apple, Microsoft, Google, and Amazon all have in common, besides billions of dollars in yearly revenue? Their websites end in ".com." But the Internet Corporation for Assigned Names and Numbers (ICANN) announced Wednesday that these four companies, plus hundreds more, are looking for more unique suffixes.
Companies like Wal-Mart and Banana Republic shelled out the $185,000 it cost to apply, according to The Washington Post, to nab ".walmart" and ".bananarepublic." But some of the applications cited more unexpected suffixes, including ".sexy," ".pizza," and ".lol."
"The remaining applications represent a wide variety of generic domain strings that are designed to simplify Internet navigation by helping users discover focused, easily identifiable content," registry provider Afilias, owner of ".info," ".mobi," and ".pro," said in a press release. "We couldn't be more excited about the growth that all of these new domain names will bring to the Internet in the years ahead."
---