Unlocked iPhone 5 provides opening for T-Mobile stalwarts
Apple will begin selling an unlocked, contract-free version of its popular iPhone smartphone.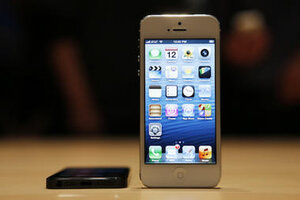 Reuters
Apple has begun selling an unlocked version of the iPhone 5 smart phone.
Beginning today, consumers can order a contract-free iPhone 5 at three price points – $649 for a 16GB version, $749 for a 32GB version, and $849 for a 64GB version. (Freedom comes at a price, folks!)
It's important to note that the unlocked iPhone 5 will not work on CDMA networks like the ones operated by Verizon and Sprint. It will work on GSM networks such as the ones operated by AT&T and T-Mobile. Since T-Mobile does not currently sell subsidized iPhone 5 handsets, the announcement from Apple kinda/sorta paves the way for a T-Mobile iPhone 5.
So why would someone want an unlocked iPhone 5, anyway? Well, it gives you more options.
"If you don't want a multiyear service contract, or if you prefer to use a local carrier when traveling abroad," Apple wrote on its website, "the unlocked iPhone is the best choice. It does not come with a micro-SIM card for iPhone 4 and iPhone 4S, or a nano-SIM card for iPhone 5, so you'll need to get one from any supported GSM carrier worldwide."
---