Instagram, now under Facebook banner, changes privacy policy
Instagram is updating its privacy policy in order to share data with Facebook, which bought Instagram earlier this year.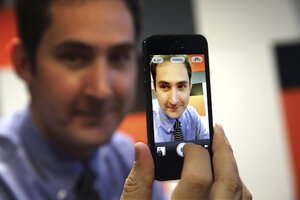 Reuters
Beginning Jan. 16, Instagram will institute a new privacy policy allowing it to share data with Facebook, which acquired Instagram earlier this year. In a blog post, Instagram promised that "nothing has changed about your photos' ownership or who can see them."
The new policy, Instagram continued, was a matter of necessity.
"Our updated privacy policy helps Instagram function more easily as part of Facebook by being able to share info between the two groups," Instagram wrote. "This means we can do things like fight spam more effectively, detect system and reliability problems more quickly, and build better features for everyone by understanding how Instagram is used."
You can access the full revised privacy policy here.
But if you're looking for the most pertinent part of the policy, navigate down to section 3, which is titled "Sharing of Your Information." An excerpt:
We may share User Content and your information (including but not limited to, information from cookies, log files, device identifiers, location data, and usage data) with businesses that are legally part of the same group of companies that Instagram is part of, or that become part of that group ("Affiliates"). Affiliates may use this information to help provide, understand, and improve the Service (including by providing analytics) and Affiliates' own services (including by providing you with better and more relevant experiences). But these Affiliates will honor the choices you make about who can see your photos.
---