The real Brothers Grimm were stranger than fiction
The Google homepage celebrates the 200th anniversary of the first edition of 'Grimm's Fairy Tales,' a collection of stories which transformed Western literature. Here's a quick look at the men who worked tirelessly for 50 years to assemble the tales.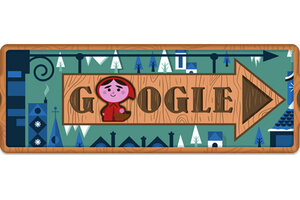 Google
Head over to Google's homepage on Thursday and you'll enjoy a scrollable comic strip telling the story of Little Red Riding Hood. The doodle celebrates the 200th anniversary of "Grimm's Fairy Tales," a compendium of European folk tales first published in 1812 by German brothers Jacob Ludwig Carl Grimm and Wilhelm Carl Grimm.
You've probably heard of the Brothers Grimm before, but the lives of the two brothers were every bit as interesting (and, in some places, as dark) as the folk tales they canonized.
Today we know Jacob and Wilhelm mainly for the collection of fairy tales bearing their name, but the brothers were also accomplished linguists and historians. Jacob, the older brother, was born in 1785 in Hanau, Germany, to wealthy parents; Wilhelm was born about thirteen months later. The brothers' father, a lawyer, died suddenly when they were still children, and the family suddenly went from enjoying a large house with servants to relying on financial support from extended family.
Because they had no father, Jacob and Wilhelm grew close to each other. They attended the University of Marburg, where their law professor introduced them to philology -- the study of language in historical texts. Because of their family's poverty, Jacob and Wilhelm were excluded from the school's social life -- which drove them to pursue their studies more energetically.
After college, both brothers worked as librarians in the town of Kassel. Neither Grimm earned much at his job, but their jobs gave them enough time to continue studying, and in 1806 they began writing down the folk tales they heard around Kassel. At first, the brothers were more interested in the stories' research value than their entertainment value -- Jacob was especially concerned with how German had evolved from languages of the past, and even went on to develop "Grimm's Law," which describes how consonants changed over time to give rise to modern German.
---