The next 'Potter'? 'Hunger Games' takes kids to darker, more violent place.
The buzz over the 'Hunger Games' movie suggests a new blockbuster young-adult franchise is being born. But the coming-of-age tale set in a fascist future has less humor than 'Potter.'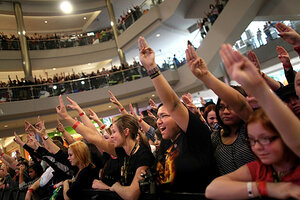 Renee Jones Schneider/The Minneapolis Star Tribune/AP
The movie version of book one in "The Hunger Games" trilogy is still a week away, but if fan-site buzz and advance ticket sales are any sign, another blockbuster young-adult franchise is being born.
"Harry Potter" begat "Twilight," which begat "The Hunger Games," but each begetting has its own quirks.
This series – starring a trio of teens, a format familiar to Harry Potter fans – features a 16-year-old heroine at the helm. It is darker, more dystopian, and less humorous than the tale of the young wizards faced with saving their world from the evil Lord Voldemort.
This time, the foe is a bloodless government that has the people of a fascist, post-apocalyptic future firmly in its grip. The 12 districts of Panem, the entity that has replaced the US in this grittier and quite forsaken devastated land, are annually forced to send child warriors to battle in a televised, lethal, American Idol-style elimination game.
Green skin and cat eyes aside, this is a far less fantastical place – only one survivor can emerge.
The appeal of this tale is very similar to that of the Harry Potter books, but it takes the narrative to a slightly more mature place, says Elisabeth Gruner, associate professor of English at the University of Richmond.
---