'Hunger Games' and 'Twilight' duel for opening grosses
(Read article summary)
'Hunger Games' strives to beat the 'Twilight' opening weekend record – but it's all going to the same movie studio anyway.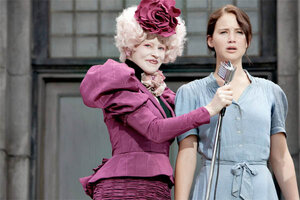 Lionsgate
There is a fake war brewing between fans of Stephanie Meyer's Twilight Saga and fans of Suzanne Collins' Hunger Games trilogy, and the fate of entire worlds, universes, random chat threads across the Internet hang in the balance. The fake war in question will be waged by Oscar-nominated director Gary Ross' big screen adaptation of The Hunger Games, and Oscar-winning director Bill Condon's two-part finale to the Twilight Saga, Breaking Dawn.
We now have early reconnoissance reports stating that Hunger Games has gained some tactical financial ground, as early projections are that the film will break…er, Breaking Dawn – Part 1's opening weekend numbers.
THR reports the so-called "shocker" that Hunger Games is currently tracking to have a bigger late March opening than Breaking Dawn – Part 1's $138.1 million debut back in November 2011. The Hunger Games started racking up opening weekend projections a few weeks back, when we reported that the film had sold more advanced tickets than Twilight Saga: Eclipse; since that time, the profit predictions have only gone upward – a rarity in the film business.
---