Say hello to Sony's new Xperia L and Xperia SP
The Xperia L is a camera-centric smart phone, while the Xperia SP has been positioned by Sony as a mid-range counterpart to the Xperia Z.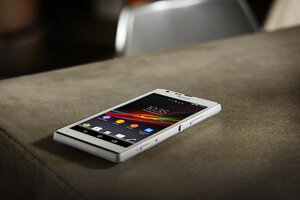 Sony
Earlier this year, Sony took the wraps off the Xperia Z, a high-end smart phone powered by a quad-core processor and equipped with a 13.1-megapixel camera and a 5-inch display. Pundits called it "stunning" – a device, to quote TechCrunch, that might "deliver the scalps of high-end rival devices such as Samsung's Galaxy S3 and Apple's iPhone 5."
And according to Sony, sales of the Xperia Z have been strong.
This week, Sony announced it would release a pair of new Xperia devices: The Xperia SP and Xperia L.
The SP is a toned-down, mid-range version of the flagship Xperia Z, designed to appeal to users who might not need all the power of the Z. The SP gets a 4.6-inch screen, a dual core processor – as opposed to the quad-core on the Z – and an 8-megapixel camera. The aluminum frame resembles that of the Z, but the phone is a bit smaller and a little easier to stuff in the pocket.
---