Can Google persuade users to switch from Evernote to Keep?
Google Keep, a note-taking app, was officially launched this week. The platform is clearly an attempt to steal some market share from Evernote.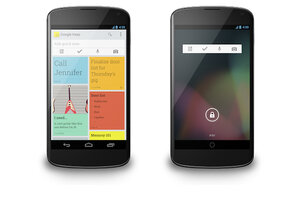 Google
Google is launching a new note-taking application called Keep, reps for the company announced this week.
Although Google did not actually mention the company by name, Keep is clearly an attempt to steal some market share from Evernote, a similar platform that first went into beta release way back in 2008. Evernote, which allows you to quickly sync and retrieve notes across a range of devices, currently has approximately 50 million users, give or take – an appealing target for the folks at Google.
In fact, the big question may be why it took Google so long to play catch-up.
"Every day we all see, hear or think of things we need to remember," Google software engineer Katherine Kuan wrote on the company blog. "Usually we grab a pad of sticky-notes, scribble a reminder and put it on the desk, the fridge or the relevant page of a magazine. Unfortunately, if you're like me you probably often discover that the desk, fridge or magazine wasn't such a clever place to leave the note after all... it's rarely where you need it when you need it."
Google Keep has an appealing aesthetic: the interface is all bright colors and clean, sharp lines. Users can changes the color of their notes and organize large quantities of text with a swipe of the finger. In addition – and we like this functionality – you can actually jot down notes without unlocking the phone.
---