Official invitation hints at a Facebook phone
Facebook has sent out invitations to an event on April 4, where the company promised to unveil its 'new home on Android.'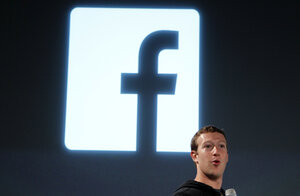 Reuters
Before we talk about the latest Facebook phone rumors – and yes, there are a bunch – it may be worth discussing why Facebook rumors are so persistent.
Reason one: Facebook is now a public company, with obligations to its investors. Those investors want Facebook to make a lot of money. And right now, the best place for Facebook to make a lot of money is in the field of mobile advertising.
As the Guardian noted back in January, the mobile trends are already moving in the right direction for Facebook – revenue from mobile advertising has doubled and more people access the platform from phones or tablets than they do Web browsers. But a Facebook phone, assuming it was popular, would help keep users even more plugged into the Facebook eco-system. There might be a specially-designated Facebook button, for instance, for instant posting.
Or more prominent placement for Facebook apps such as Messenger or Instagram.
Reason two: We all love a good horse race. Right now, the smart-phone market is pretty much dominated by the Apple iPhone 5 and the Samsung Galaxy line. Facebook is the rare company that has the might to influence the race.
But back to those Facebook phone rumors. Yesterday, Facebook sent out an invitation to an event on April 4, at its Menlo Park HQ. "Come See Our New Home on Android," the invitation reads. Which certainly could point to an Android-powered Facebook phone.
---