In-car dashboard 'smart' technology is distracting, AAA warns
'Hands-free' apparently isn't enough when it comes to today's automative dashboard technology.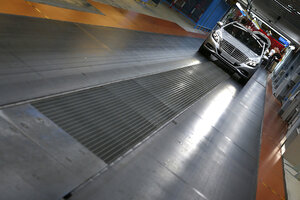 Reuters
Computer technology has long been a part of the car dashboard landscape, from large touchscreens to smart phone and MP3 player integration. And over the next few years, our cars are likely to become even more wired. Consider, for instance, the iOS in the Car platform that Apple unveiled recently at the WWDC conference in San Francisco: it's got music controls, infotainment options, and a feature that will allow you to send hands-free iMessages.
Is this a good thing for drivers? The AAA Foundation sure doesn't think so. In a study released today, the organization found that in-car smart technology regularly led to "suppressed brain activity, slowed reaction times, missed visual cues, and reduced visual scanning of the driving environment (think tunnel vision)."
---