Microsoft buys Nokia in cash deal worth more than $7 billion (+video)
Microsoft buys Nokia: Struggling hardware manufacturer Nokia will be snapped up by software giant Microsoft.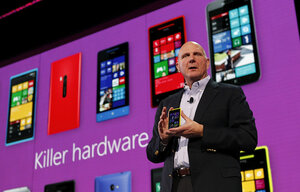 Reuters
Way back in 2011, Nokia announced that Microsoft's Windows software would replace the Symbian OS on all its smart phones. The partnership has proved fruitful – Nokia has released a number of popular Windows-powered phones, including the high-powered Lumia 1020.
And now the two companies are taking their relationship to the next level. Earlier today, Microsoft officially announced that it would acquire Nokia in a cash deal worth more than $7 billion – a deal that includes all of Nokia's valuable patents.
"Now is the time to build on this momentum and accelerate our share and profits in phones," Microsoft CEO Steve Ballmer said in an e-mail to Microsoft employees obtained by Joanna Stern of ABC. "Clearly, greater success with phones will strengthen the overall opportunity for us and our partners to deliver on our strategy to create a family of devices and services for individuals and businesses that empower people around the globe at home, at work and on the go, for the activities they value most."
---