How Osama bin Laden's death sparked a fake Martin Luther King quote
(Read article summary)
A Facebook user's message about Osama bin Laden's death quickly mutated into a misattributed quote by Martin Luther King, showing us all how quickly the Internet can generate an urban legend.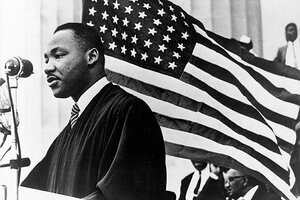 ZUMA Press/Newscom/File
If you were online Monday, there's a decent chance you spotted this quote:
"I mourn the loss of thousands of precious lives, but I will not rejoice in the death of one, not even an enemy." -- Martin Luther King, Jr.
To many who found the celebrations of Osama bin Laden's death unseemly, the line summed up their feelings perfectly. By the end of the day, it was being repeated endlessly on Facebook, Twitter, and several blogs.
Just one problem: There's no evidence that Martin Luther King ever said such a thing.
By Tuesday morning, the blogosphere was starting to catch on. One of the first was Salon's Drew Grant, who shot from the hip and grazed an innocent Las Vegas magician with a post headlined, "Why did Penn Jillette create a fake Martin Luther King Jr. quote yesterday?"
---